Japanese Yoga: The Way of Dynamic Meditation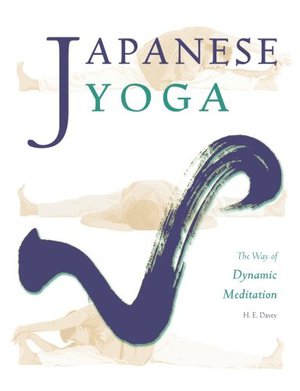 by H. E. Davey Sensei
Stone Bridge Press ISBN 1-880656-60-4 239 pages $18.95
"Will make many yogis feel right at home... Davey's readable, friendly guide is definitely worth a look."— Yoga Journal, July 2002
Japanese Yoga: The Way of Dynamic Meditation is the first and only book in English on the original Shin-shin-toitsu-do system of Japanese yoga. It received outstanding reviews in various magazines around the world, including Yoga Journal in the USA and Tempu magazine in Japan. On Amazon.com, Borders.com, and Barnes & Noble.com, it received an overall five star top rating.
Based on the eclectic Western-Eastern teachings of Nakamura Tempu, this step-by-step introduction to Japanese yoga (Shin-shin-toitsu-do) presents stretching, healing, and meditation exercises designed for mind/body integration. It is the first book in English to detail the life and teachings of Mr. Nakamura. In Japanese yoga, which is based on mind and body unification principles, the ultimate goal is enhanced concentration, calmness, and willpower for a longer, healthier, and fuller life. H. E. Davey also shows how Japanese yoga relates to various classical Japanese arts as part of a tradition of spiritual practice with spiritual and aesthetic roots in India, Japan, and the West.
Emphasizing gentle stretching and meditation exercises, the ultimate goal of Japanese yoga (Shin-shin-toitsu-do) is enhanced mind/body integration, calmness, and willpower for a healthier and fuller life. Developed by Nakamura Tempu Sensei in the early 1900s from Indian Raja yoga, Japanese martial arts and meditation practices, as well as Western medicine and psychotherapy, Japanese yoga offers a new approach to experienced yoga students and a natural methodology that newcomers will find easy to learn.
After a brief history of Shin-shin-toitsu-do, H. E. Davey Sensei presents Mr. Nakamura's Four Basic Principles to Unify Mind and Body. These principles relate the meditative experience to the movement of everyday living and thus make it a "dynamic meditation." Each of the Four Basic Principles is illustrated with step-by-step explanations of practical experiments.
Readers are then introduced to different forms of seated and moving meditation, health exercises, and self-healing arts. All these are linked back to the Four Basic Principles and can enhance performance in art, music, business, sports, and other activities. Readers learn to use Japanese yoga techniques throughout the day, without having to sit on the floor or seek out a quiet space.
Included at the end of the book are simple but effective stretching exercises, information about ongoing practice, and a glossary and reference section. Amply illustrated and cogently presented, Japanese Yoga belongs on every mind/body/spirit reading list.
How to Order
Autographed copies of Japanese Yoga: The Way of Dynamic Meditation can be ordered online at http://senninfoundation.com/davey_yoga.html.
You can buy the Kindle version of Japanese Yoga at Amazon.com: http://www.amazon.com/Japanese-Yoga-Dynamic-Meditation-ebook/dp/B00A10E9VA/ref=sr_1_1?s=digital-text&ie=UTF8&qid=1352844331&sr=1-1&keywords=japanese+yoga.