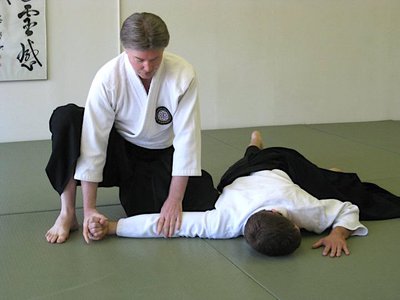 H. E. Davey Sensei
Traditional Jujutsu Division Director
H. E. Davey Sensei is the Director of the Sennin Foundation Center for Japanese Cultural Arts, which offers instruction in Japanese systems of yoga, martial arts, healing arts, and fine arts. He's a founding member of the SMAA as well as one of three SMAA Primary Directors and the editor of the SMAA Journal.
He began studying Saigo Ryu martial arts at age five under his late father, who trained in Japan and the USA, and who held instructor certification from more than one martial arts association in Japan. Saigo Ryu features jujutsu throwing, pinning, and grappling techniques stemming from older methods originating in the Aizu-Wakamatsu area of Japan. It also features training with the sword, spear, staff, short stick, iron fan, and other weapons.
Mr. Davey is a Division Director for the SMAA Traditional Jujutsu Division. His SMAA title/rank is Shihan/eighth dan. For over 50 years, he's studied jujutsu in Japan and the U.S. He has also presented Saigo Ryu in bilingual lecture-demonstrations in Tokyo.
In middle school, Mr. Davey began Shin-shin-toitsu-do, a system of Japanese yoga and meditation founded by Nakamura Tempu Sensei. He's a member of the International Japanese Yoga Association in Kyoto and the Wakuwaku Honshin Juku in Osaka, and he holds the highest teaching certification from these associations, which are devoted to the teachings of Mr. Nakamura.
Mr. Davey also studied shodo, or Japanese brush writing and ink painting, for 20 years under the late Kobara Ranseki Sensei of Kyoto. Mr. Davey holds the top rank in Ranseki Sho Juku shodo and exhibits in Japan. He's received numerous honors in these exhibitions, including Jun Taisho ("Associate Grand Prize").
H. E. Davey's articles on Japanese arts and his artwork have appeared in many American and Japanese magazines and newspapers. He's the author of several books on Japanese yoga, brush calligraphy, flower arrangement, martial arts, and more. Information about his writing can be found at https://www.michipublishing.com/.