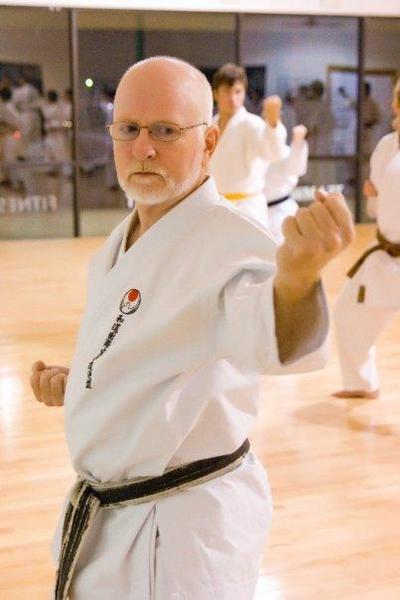 Tom Kosslow Sensei
High-ranking instructor of Wado Ryu karate-do
Tom Kosslow began his practice of Wado Ryu karate in 1968 at the age of 18, while attending college in Nashville, Tennessee. His first sensei was the late Cecil Patterson, President and Founder of the U.S. Eastern Wado Ryu Karate-Do Federation. Kosslow Sensei trained in Nashville until he was drafted during the Vietnam War in 1970. He spent the next four years as a member of the U.S. Air Force. He continued his training during his military years, and upon his honorable discharge, he relocated to Lakeland, Florida, where he trained under the direction of Charles Parrish. Parrish Sensei promoted Kosslow Sensei to shodan (first-degree black belt) in 1975.
In 1976, Kosslow Sensei moved to Atlanta so that he might attend graduate school at the University of Georgia. Between 1978 and 1983 Kosslow Sensei earned a Masters Degree, Specialist Degree, and Doctorate Degree in Educational Administration. He worked for the Fulton County Board of Education in Atlanta, first as an Elementary School Teacher (nine years) and then as an Elementary School Principal (17 years). In July of 2000, Dr. Kosslow retired from that school system.
In 1969, and again in 1975, Kosslow Sensei received instruction from the late Otsuka Hironori Sensei, the founder of Wado Ryu karate-do. In 1985, he traveled to Japan for the 50th Wado Ryu World Championships as a member of the U.S. Eastern Team. In the early 1980's, Kosslow Sensei began training under the supervision of Suzuki Tatsuo Sensei, among the most senior of all Wado Ryu instructors. When Suzuki Sensei created the Wado International Karate-Do Federation, Kosslow Sensei formally joined that organization in 1989. Suzuki Sensei has been his instructor since that time. Kosslow Sensei returned to Japan again in 1995, as a member of the WIKF Team, to compete in an International Friendship Tournament. In 2003, he once again visited Japan to train and tour as a member of a WIKF world group.
In 2005, at the Wado World Cup in Plano, Texas, Suzuki Sensei promoted Kosslow Sensei to seveth-degree black belt. This promotion made him the highest ranked WIKF student in the United States.
Dr. Kosslow served as the Chairman of the WIKF USA Board of Directors until December of 2006. He is currently the Secretary and a member of the Technical Committee of that organization. He has also served as a member of the Board of Directors for the Georgia Karate League since its inception in 1996. Dr. Kosslow, SMAA Senior Advisor, has owned and operated the Newnan Karate Center in Newnan, Georgia since 1977.
(Photo credit Shannon Matson Photography 2009)