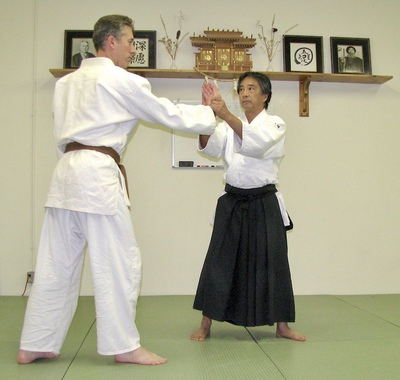 Ohsaki Jun Sensei
Lifelong practitioner of Kodokan judo and traditional Japanese jujutsu, with over 50 years of budo experience
Ohsaki Jun Sensei offers a knowledge of traditional budo and Japanese cultural arts that is of great value to the SMAA. He brings over 50 years of martial arts experience to our association.
Ohsaki Sensei was born in 1948 in the Shibuya section of Tokyo. He was interested in budo as a child, and at the age of seven he started to study Kodokan judo. His instruction began at the Hatagaya Keisatsu Dojo, one of the numerous dojo sponsored by the Tokyo police department. These keisatsu dojo, or police dojo, are infamous throughout Japan for the severity of their training. His initial training began with soji, the ritualistic cleaning of the dojo. For some time, he was only allowed to clean and watch his sempai ("seniors") practice. Eventually, having proven his sincerity, he began learning safe falling techniques (ukemi) and later throwing and grappling methods.
In time, he completed college, became an automotive technician, married, and had two sons, one of whom has trained for many years in kyudo (the martial art of Japanese archery). He is presently the owner of an automobile repair facility. His judo training continued successfully throughout most of his life.
Eventually, Ohsaki Sensei also began a comprehensive study of traditional jujutsu and classical Japanese weaponry, which he has excelled in for many years. He has demonstrated Nippon jujutsu at the Kokusai Budoin Sogo Budo Taikai. This important budo exhibition takes place early each spring in Tokyo. Besides budo, Ohsaki Sensei has extensive training in Japanese forms of meditation and healing arts, along with a comprehensive background in shodo, the art of Japanese calligraphy.